Bethany "Supergirl" Karlin Signs on With MuscleSport Mag
MuscleSport Mag is proud to announce that WBFF Figure Pro Bethany Karlin has signed on to be one of our official athletes. The Denver, Colorado native lives by the mantra of "go hard or go home" and just one look at her makes that obvious.
"I love pushing my body to the limit and training as hard as I possibly can," the 31-year-old said. "I love the results that come with hard work and the inspiration I provide to others. Working out is may passion, my love and my life."
Going back to her childhood, Karlin has always been into athletics. Soccer, swimming and ice skating were the humble beginnings that eventually led to being named All-State in field hockey and lacrosse and an All-American in high school field hockey. "It was during high school when I was 16 that I first started weight training," said Karlin. Her first trainer, Steve Hess, went on to become the strength and conditioning coach of the NBA's Denver Nuggets, a position he still holds today.

After being recruited by several Division 1 colleges for both field hockey and lacrosse, Karlin played lacrosse her freshman year. "Initially my time spent in the gym was with the intent of being the best athlete I could posibly be on the playing field," she recalled. "Quickly though, I realized that weight training and the accompanying fitness lifestyle was my true passion." Karlin eventually transferred to Santa Clara University, where she graduated with honors and was awarded both Magna Cum Larder and Phi Betta Kappa and received a B.S. in Psychology.
After college, Karlin's love of the gym and weight training only intensified. "Hardly a day has gone by in the past 16 years that I haven't stepped foot in a gym," she says matter of factly. Although she had laid the foundation for quite some time, Karlin did not begin competing until 2008.
Before turning pro, she was a top-level national NPC competitor and donned the posing suit four times her first year on the circuit. This year, Karlin competed in the Arnold Classic Amateur Invitational and professional debut at the WBFF World Championships, an organization run by Paul Dillet. "I was thrilled to be part of a federation founded by a bodybuilder where the athletes have more individuality," she said. "I am very proud of my hard work and level of conditioning and feel that as an athlete I am more appreciated and valued by the WBBF. I am thankful that I have found a home with them and confident that I will continue to make then federation proud."
Karlin's trainer and friends gave her the nickname 'Supergirl' because of her strong work ethic in an out of the gym. "I tend to bring a unique look to the figure stage and no matter where I place, it's evident that the work went into my preparation," she said.

Operating her own business as a personal trainer and competing may be one of her loves, but Karlin's four-year-old daughter is her life. "She is why I wake up and breathe in and out everyday," she says proudly. "My love for her could get me through the toughest of days and I would do anything for her. She is my greatest inspiration and biggest fan. She already knows how to perform quarter turns and has her own clear heels!"
A future champion herself, no doubt.

Contest History:
Colorado Mountain States Bodybuilding and Figure Championships (2008)
Northern Kentucky Bodybuilding and figure Championships (2008)
U.S.A Championships (2008)
National Championships (2008)
Arnold Classic Amateur Invitational (2009)
WBFF World Championships (2009)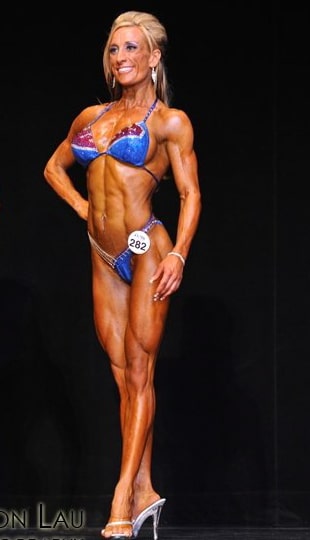 Photos by Simon Lau