Detroit Lions Special Teams Whiz Montell Owens Strength Training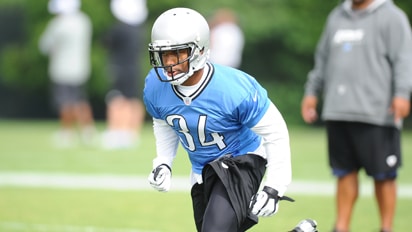 Five yards can make a difference, especially when it effects the precious few plays that one may make it into a game. So the NFL's kickoff starting spot change three years ago resulted in Montell Owens having to switch gears in his entire philosophy returning the ball to remain a special teams standout.
"When I came into the league back in 2006, you didn't have to be overly strong on special teams," the running back says. "You used to be able to rely on speed and quickness. But now the field has been condensed; it's a tighter box that we're playing in now.
"Besides that," the new member of the Detroit Lions continued, "The dynamics are also different because the personnel is changing. Now you have bigger running backs, linebackers, tight ends and big safeties making up the units. A lot of teams are playing a 3-4 defense and you have undersized defensive ends playing linebacker that are down on the depth chart and playing special teams. They all have more girth and strength."
BIG OFFSEASON
Because of this, Owens – who made the Pro Bowl in 2010 and 2011 as a special teams player with the Jacksonville Jaguars – had to modify his offseason training program to concentrate on gaining more size and strength.
"This offseason, I did a lot of Olympic lifts," he says. "You're out there wrestling with these bigger guys, so I made sure to include total body movements, which are key for football."
Owens used the basic compound movements such as squats, bench press, shoulder press and deadlifts often and he normally did five sets of 10 reps for each.
DIVERSE TRAINING 
The 29-year-old has used a variety of training methods since his days back in high school and feels that all of them have a place in his program. "I've done all kinds of workouts," says Owens. "With trainers and without. Olympic lifts, body weight, machines, Physio Ball…all of the movements work together and there's not one that's superior.
"But the only thing that prepares you for football is football."
That last statement is the most telling one. All of the preparation done in the gym may get you pointed in the right direction, but giving or receiving hits on the gridiron is the only way to know that your fully ready.

"I've always been tired after the first week of training camp," explains Owens. "And you have to prevent injury by conditioning the muscles in your training, doing straight forward work to fatigue them."
A SIGN OF THINGS TO COME
When Owens first arrived at the University of Maine, he became disenchanted because he didn't have the opportunity to run the ball a lot and actually wanted to transfer out. "The coach put me on special teams, so I figured that I would do it even though it's not where I want to be. Perhaps fate was involved, preparing me for what I was going to do later on (in the NFL)."
By signing with the Jaguars as an undrafted free agent, Owens was a long shot to stick but did just that. "The day that I made the team, I grew a thick skin for when I might get released," he recalls. "Instead of asking myself, 'How do I stay and not just be a flash in the pan?' I was like, 'How do I (help) this team win?' "
He needed to just go out there and make plays instead of focusing on the worst that can happen. He was able to do that on a consistent basis and holds two Jacksonville team records: the most special teams tackles in a single season with 30 in 2009 and the most career special teams tackles with 118.
But the franchise is going through a rebuilding stage and Owens was released back in May. "When an organization cleans house, a lot of times a business wants to develop new leadership," he says. "Tough decisions have to be made."

But less than two weeks later, Owens signed with Detroit and is clearly satisfied with the way things ended up. "This is a team on the verge," he says with a grin. "You can see (it) from the first day of practice. This is a great situation and there's no way that this team doesn't have a chance."
Especially when they can now trot out a two-time Pro Bowler on the opening kickoff.
Photo courtesy of the Detroit Lions