Kevin Levrone: Lights, Camera, Results
By Kevin Levrone – When I was asked to do an article for MuscleSport Magazine, the first thing that popped in my mind was a little secret I came across in the past few months. A high-tech ingredient that supercharges my workouts, my attitude and my results.
It's accessible to anyone and it's all natural. It can even be free, depending on how resourceful you are. I've come to think of it as the world's greatest natural steroid, given how much it helped me in my most recent transformation on LevroneReport.com.
After you read the secret, you might not want to use it. You might think you CAN'T, that it's not realistic for you. But you'll be lying. The boldest among you will give it a shot. Results are guaranteed. Here it is. The secret ingredient is…
Exposure. Start a blog on wordpress.com. It's free. Get a cheap camera. Start videotaping workouts. Upload them on your blog or YouTube. Send the URL to everyone you know. Then watch in awe as your muscles swell up over the next few weeks.
It works. I started LevroneReport.com in early 2009 after a four-year layoff. The camera made me fear that someone would catch me looking weak in my routine. That fear caused me to train like a madman.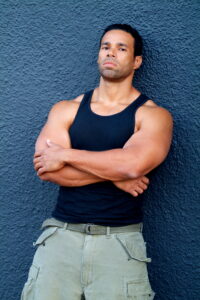 Every set, every rep was done with the awareness of being watched. I sat straighter, rested less. I felt the consequences in my muscle fibers the next day. I put on unreal gains within eight weeks. All natural.
As a pro, I always perform at a high level. But the camera caused me to work even harder – with more focus and intensity and killer flex-and-squeeze form.
The camera has a way of pushing you, of harnessing the whirlwind power of your own vanity. Whether you have 20 people following you, or 20,000 like I do, the effect on your workout is the same.
If you're not getting some of your workouts on video and sharing them, you need to be. Otherwise, you're missing out on one of today's most potent muscle-building technologies. Take a bold step and do it this week.

Let me know how it goes on LevroneReport.com. I might even feature your video on my blog. How's that for pressure?
Levrone, out.
Kevin Levrone is a former IFBB professional bodybuilder, musician, actor and health club owner. He is currently the Owner and Editor- in-Chief of www.LevroneReport.com, a dynamic blog community built around Kevin's workouts and philosophies. Kevin has 22 professional IFBB wins and holds one of the best record in pro body building history to date. He's an eight-time world champion, won the Arnold Classic two times (1994 and 1996), and came second at the Mr. Olympia four times over the span of a decade. 
Photos courtesy of Kevin Levrone