MusclePapa Presents: Shannon Munn, Top Notch Bikini
Please share something of your background and how it relates to your current interest in fitness and modeling.
As a child, my parents always encouraged me to be active in sports. I played in organized soccer and softball leagues from an early age and I was often in the top placing in physical education competitions in junior high and high school classes. I've always had a competitive spirit but have thrived as a team member and leader. As a heavy early twenty something, I found myself wanting to be leaner and healthier. I joined weight watchers, learned how to eat and found the gym in the process. The rest is history!
Share with us a bit about your contest history and most memorable show experience.
I've competed now in both figure and bikini, and love different parts of each of the divisions. I strive for the physical ideal of figure and the appreciation for the advanced muscularity of it, but I love the spirit, posing, and stage presence necessary to be successful in bikini! Finding out after my very first bikini show, Southeastern States that I had nationally qualified was an ecstatic surprise.

What motivates and or inspires you to workout, diet and compete in fitness? Which part do you have the most difficulty with?
I've been told by more than a few people that they admire my discipline. In the most simplistic terms, I love lifting and I'm great at working towards a goal. The hardest thing about the lifestyle is maintaining healthy relationships with loved ones who are not in the industry.
What goals do you have in the sport and do they relate to the rest of your life?
My real passion in life happens to be fitness and becoming an IFBB Pro would give me the credibility I feel I need in order to pursue a business related to it. I would love to be a Larissa Reis — someone who has their fingers in a million different pies and has made a name for themselves as a successful business woman. Coming up with a concrete plan is one of my goals for 2015.
What do you think is the most misunderstood aspect of your lifestyle?
I think a lot of people think myself and other competitors spend hours upon hours in the gym. It's true, I love to train and you can find me in the gym most days, but I wouldn't say I live there. I get in, get it done and get out. Most of the discipline required actually comes from the nutrition aspect of the sport — I'd say I may spend as much or more time in the kitchen than I do in the gym!
What's the most comical or unusual comment someone has made to you? How did you deal with it?
I work as a server in a local restaurant and people are always asking me to flex for them or making comments about how I probably don't ever eat any of our food. I usually make a joke of it like "I'll flex if you do!" Or "of course I eat here! In fact I just polished off a few bread puddings in the back."
Share anything additional that you'd like people to know about you.
I'm smarter than I look. 😉
What are your top six favorite workout songs?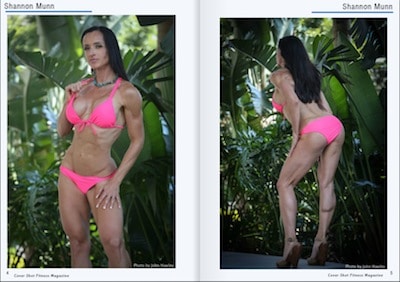 Bombs Over Bagdad – Outcast
Kaskade – Room for Happiness
Morgan Page – Fight for You
Deadmau5 – Sofie Needs a Ladder
Crystal Castles – Pap Smear
Skrillex – Kill Everybody
What are your favorite non-athletic activities?
Cooking and eating, of course!
Stats:
-Weight: 118 contest, 140 off
-Measurements:38, 24, 36
Preferred contact info:
yoshannanas@icloud.com
Be sure to visit John Hawley's websites and social media pages:
MusclePapa.com    Florida Fitness Photography.com     Cover Shot Fitness Magazine