MusclePapa John Presents: NPC Bikini Competitor Karen Diaz
Please share a bit of your background and how you see it relating to your current success in fitness and modeling.
I got into fitness about 2 years ago. I was overweight and uncomfortable in my own skin. I was getting married, and I knew that I wanted to lose weight before that day. I started to meal prep and work out with my husband to lose the weight. I attended Europa in 2014 and that is where I set my goal of getting on stage. Seeing those girls in a bikini, showcasing their hard work gave me that additional motivation to keep going towards my very own fitness goals.
However, I needed to set a plan and find a foundation since I really didn't know much about what it took to actually compete. On June 3rd,2014 I came across Team Bombshell, read up on what they had to offer and I applied. I got accepted into the team and have been with them since then. I've done 2 competitions and I am getting ready to kick start this 2015 season with Southern USA in Daytona. I personally feel like I am in the best shape of my life at 27 years old and 1 child later. I am truly passionate about what I do, the eating clean, the training, the fact that others are inspired by my story.

Of all the clothing and modeling/acting opportunities you could land what would be your favorite role and what would you wear?
Fitness promotion video or a featured on a magazine. Fitness wear. A platform that would allow me to inspire men and women.
Share with us a bit about your contest history and most memorable show experience.
The Fort Lauderdale Cup was my very first show, there I placed 7th amongst 35 beautiful girls. All South was my second show and there I placed 1st in my class (B). This show is very special to me, because it was a way of bouncing back a week later after Fort Lauderdale Cup and I had the chance to correct any little mistakes I made at my first show. It was an absolute blast.
Is there something that motivates and or inspires you to workout, diet and compete in fitness that non-competitors might connect with?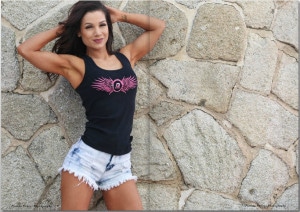 Absolutely, I think everyone should have a little something that motivates them. In my case, it's my son. He is the reason I push, the reason I keep going when I feel that I have no more to give. Knowing that he's proud and he sees my determination, gives me a sense of satisfaction. Setting a good example for him is my goal in life, I strongly believe that him watching me train and compete has planted that seed in his heart to follow his dreams no matter what they are and hard work does truly pay off.
Which part do you have the most difficulty with?
You know, I thought I would have a difficult time with eating, but I'm sure everyone can agree that cardio takes the title here!
How do your goals on stage connect with your non-athletic activities?
I strive to give my best effort in any activity that I take on wether at home or work. I tend to use my determination and willpower in all areas of my life.
What do you think is the most misunderstood aspect of your lifestyle?
My eating habits (super clean) & the hours spent in the gym. People always say, "you look great, why do you have to eat like that and train so much." I've learned to just simply respond with, "this is what makes me happy."
What's the most comical or unusual comment someone has made to you?
At my first show I was very lean. The bikini company that I ordered my suit from, posted a picture of me on stage and a couple of people made a comments saying "Ew", "She looks anorexic!" How did you deal with it? How did I deal with it? At first I cried, I was very new to the game and still trying to learn. I reached out to my coach and a very close competitor friend and they both explained that those comments are ones that will be made in this industry and I will have to learn how to brush them off. I've honestly grown so much since and I love where I am in my fitness journey. If some one were to say that now, I'd smile and waive!
Do you use a coach or nutritionist and how have they impacted your journey?
I am a member of Team Bombshell. My coach is Vanessa Campbell & my nutritionist is Genn Strobo. How have they impacted my life? The team on itself has change my life tremendously. Shannon Dey is a master mind, she created this team for women who want to better their lives. I can say it's changed mine. Coach V is truly my mentor, my voice of reason and the best coach I could have ever asked for. She knows, she understands and she is great at what she does. Genn, well she taught me how to eat. Before Bombshell I had no clue what to eat to be "healthy", I've gotten so used to measuring everything and prepping that when I have a cheat meal, I'm a little lost. I'm truly grateful for my Team, best decision I've made was joining!
Do you have a couple mentors that help you keep track on your goals that you'd like to credit people close to you or that you look to for inspiration from afar?
I have so many, but the main ones I'd say are my husband Justin Diaz, my coach Vanessa Campbell and my good friend Shandy Ortiz. They have been my backbone since day one.
Share anything additional that you'd like people to know about you.
I used to be overweight, I was my heaviest at 168.5lbs. I was going through a lot in my life at one point. This just goes to show that anything is possible if you believe with your heart!
Top six favorite workout songs?
*Surrender- Cash Cash *Colors- Headhunter (Yellow Claw Remix) *Fetty Wap- Trap Queen *Oliver Heldens- Podcast *R3hab- Podcast
Favorite non-athletic activity?
Quality time with my family, I love going to theme parks.
Stats: -Weight: 111lbs -Measurements: 32″ bust, 24″ waist, 30″ hips.
Preferred contact info: Email: Krizo87@yahoo.com