Muscle Domination Sessions With Annie Reveccio
Most women bodybuilders that are successful still have to find there 'niche' to make money in the sport. Whether it's modeling, supplement company sponsorship or building a team as a training coach. But one of the most popular and a financial success (and I talked about it before) is muscle worshiping!
This month, I had the pleasure of interviewing Annie Reveccio. She is a former professional bodybuilder who competed for 20 years in the NPC and IFBB (1988-2008).
Reveccio says she started offering sessions related to muscle and female power back in the 1990s. After a break from the sessions world, she decided to reestablish herself, focusing more on muscle domination and admiration.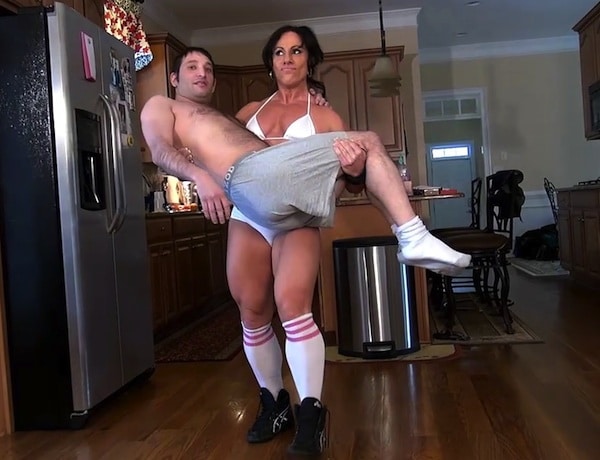 Rather than being sadistic, Reveccio expresses herself as a mature, naturally dominant and physically strong. However, she will incorporate corpal punishment techniques much, as a strict governess may discipline her ward! She enjoys playing with and being in the company of men, and especially enjoys witnessing the control a male's own sexuality has over his mind. Reveccio chuckled and said, " I find it both amusing and arousing at the same time."
When asked what she considered a common session to consist of, Reveccio replied,  "A common theme  seems to be how much stronger/bigger I am than them. Last time in New York City, there were a couple of males who really enjoyed this scenario. After standing in front of them flexing and starring them straight in the eye, I usually drag them over to the mirror so they can see themselves compared to me. This usually gets at least a slight gasp and makes their eyes open wide. I sometimes throw them over my shoulder and make them look at themselves in the mirror in their helpless state. And another slight form of humiliation is taking pictures of them and their puny arm next to my big strong arm."
What would Reveccio say in regards to a session that is not as common (lol)?… "There are sometimes occasions when I have 'extreme sessions.' One in particular is a man that likes to be trampled. What makes it so extreme is that he likes me to walk on him with high spiked heels, WITH LIGHT BULBS ON HIS CHEST! The sounds of the bulbs popping and crunching is an extreme turn on for him. And I enjoy every minute of it. I find it interesting and cool that someone finds a way to act out fantasies that others would find crazy or weird.
"This is what I enjoy the most," concluded Reveccio. "Finding a weak spot in the male's mind and sending him into a zone of pleasure…or pain."
In addition to offering sessions, Reveccio runs several websites. Be sure to visit:
www.muscleangels.com  www.femalemusclemovies.com and www.musclegirlclips.com    
And to see or learn more about Reveccio and her muscle worshiping sessions, go to – extremepromuscle@aol.com 
Thanks all!  : )
Dana (aka Lizzie)
Dana's Efficiency Training Gym – Facebook – Google+ – Instagram
Photos courtesy of Annie Reveccio