Op-Ed on New NPC/IFBB Men's Classic Physique Division
How much is too much? In a field that was already overcrowded, there will be even more in 2016 with the announcement that the NPC and IFBB will be adding yet another division with men's classic physique, a hybrid between men's physique and bodybuilding. Details are sketchy at the moment, with a short video posted on NPC News Online and a chart showing the height and weight criteria for three sub-divisions within the new division.
If you're confused, you are certainly not alone.
What does all mean for competitors and fans of the sport? First of all, competitors will have to decide which division they will enter and then have to decipher what they should bring to the stage to meet the judge's standards…which are currently unknown at the moment.
As per the video, all of this will be posted on the official NPC website for competitors to know before deciding. But haven't we heard that song before? In practically every division, there have been questions as to what the judges are looking for and even then, it changes frequently. Go all the way back to women's bodybuilding with the 20 percent rule and how that ambiguity ended up playing a hand in the eventual demise of the division to where it is barely even seen anymore.
The obvious reason for the creation of men's classic physique (which sounds exactly like men's classic bodybuilding that is held at many shows, including the Arnold Amateur) is to appease the people that feel the MPD has literally grown too much. The size of the competitors has went from a 'beach body' look (which was held at independent contests before the NPC implemented it) to physiques larger than three-time Mr. Olympia Frank Zane's.
So just when it seemed that the MPD has found it's niche (and bodybuilding would be for the massive frames), here comes the curve ball.

A major complaint of MPD was the board shorts and the new division will in fact have what is described as 'standard black spandex posing trunks' that can be found on NPC News Online at a date still to be determined. (Will they be the only 'official' outlet to purchase these items?) So it appears that the entire body – legs included – will be judged.
Another interesting twist that came out of the video was that judging for many divisions – including figure – will be changed and enforced differently to reward the less muscular physiques, which sounds an awful lot like the female bodybuilding 20 percent rule that never was fully enforced. Mistakes on the various judge's parts were admitted here in allowing the bodies to keep growing and placing high.
But instead of adding division after division, this should have been the first thing on the list to be checked off. It will be even harder now for everyone involved – including said judges – to be consistent. Another potential move could have been to morph MPD into this new category and call it one or the other. So now you will have the bigger MPD competitors moving up, per se, and then even more male bikini/cardio bunnies signing up for shows because they see the standards shrinking.
Perhaps this is a knee jerk reaction to Arnold Schwarzenegger's complaints about the wide waistlines in bodybuilding, the judging and Jim Manion himself. But it can also be construed as a way to give some of the people what they want but also not make it seem that Schwarzenegger 'won' the argument.
There's on definite in this and that the NPC and IFBB will gross even more revenue than before. If the NPC Nationals can have 1,000 total competitors now, how many more entry fees will be handed over starting next year? The shows are difficult to sit through as it is due to the amount of time to have each and every one of these competitors take the stage. This will make it unbearable for most – but not the ones who share in the organization's coffers.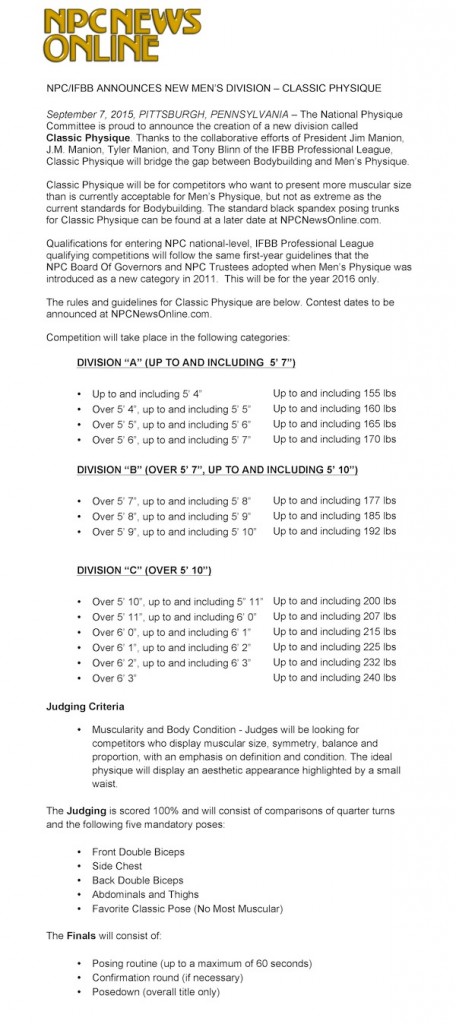 Source: NPC News Online
Photo: AJ Jawa Photo