Lee Priest: I'd Be a Part of NPC Global
Hats off to Lee Thompson for breaking away from the NPC/IFBB and forming his own bodybuilding organization. This has been a long time coming for the competitors and fans of the sport and if it pans out like Thompson envisions, then I see it as a wonderful new day and fresh start for the bodybuilding and fitness community…and something that I would also like to be a part of.
So not beating around the bush at all, I'd like to put that right out there to Thompson and hear what he feels about it.
I have been saying the same things that Thompson spoke about in the video posted on the new NPC Global website for over a decade now and that, in turn, got me a two-year ban from the IFBB and that eventually turned into a lifetime one.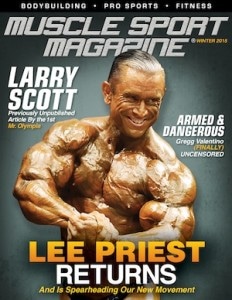 For the athletes to share in the revenue and have the opportunity to compete in any federation worldwide are two important aspects that I have been speaking about at great lengths myself, perhaps not as diplomatically as Thompson did, however.
I encourage everyone to sign up for their free newsletter on their site.
So how about it, Lee? Would you want me to be a part of NPC Global?
EDITOR'S NOTE:
MuscleSport Magazine columnist Lee Priest is merely one legendary bodybuilder to speak out recently about issues with the IFBB. Eight-time Mr. Olympia Lee Haney and  MuscleSport Magazine contributing writer Robby Robinson have been very vocal regarding the Kai Greene situation and even people from the "other side," if you will, have gone out of their way to make public statements about their allegiance to the IFBB and NPC.
That speaks volumes about the immediate effect that Thompson's announcement has had on the industry.
Be sure to read Lee Priest's column every month online and in each quarterly print issue of MuscleSport Magazine.