5 Percent Nutrition Athletes Maria and Chrysa Syngrou, aka The Fit Twins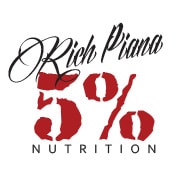 We killed that shit with the 5 Percent Nutrition athletes at the Olympia 5%er booth and had an awesome time! Met so many awesome people at the expo and ran into so many people I had not seen since last year! Two of 5% sponsored athletes that were with us in Las Vegas were Maria and Chrysa Syngrou, aka The Fit Twins. 
What better way to get to know them than by having them tell it themselves? Here's Maria Syngrou's introduction on just who she and her twin sister are:
We are identical twin sisters originally from Greece and have always been into sports since a really young age. We have taken up various sports such as acrobatics, synchronised swimming , volley ball…even football (soccer). Apart from our passion for sports, we also expressed and developed a love towards art and more specifically fashion. That's why after graduating from high school we moved to London – the fashion capital – and started studying fashion design and styling.
Unfortunately, despite the fact that we enjoyed the creativity and artistic culture, we were also exposed to wrong images such as skinny figures and size zero. That had an unavoidable impact on our personal life, as well. Our bodies changed and went from athletic to very slim and went through difficult times dealing with eating disorders. That's when fitness came again in our life .
The transition  was not easy since we had to give up on fashion, but that's when we realized that fitness/training and healthy lifestyle is our real passion that also saved us and we believe it can save a lot of people, too.
We are now both certified personal trainers and posing coaches, brand ambassadors of supplement brands and also NPC bikini division competitors. Our schedule is full of training, prepping food and attending fitness-related events such as expos, boot camps, etc. Our main goal is to inspire and encourage people to get fit, healthy and strong through training and clean dieting.
During the grand opening of Get Yok'd and while working at a booth in North Hollywood, we got the amazing opportunity to meet Rich Piana in person. After the opening, we all happen to work out at the same gym in the area. The atmosphere and energy was off the roof. We were so excited to be around these amazing athletes and the legend Rich that have such passion and love for the sport of bodybuilding. From that day on, we knew in our hearts that we wanted to be a part of this team, this cult, if you may.
It wasn't too long after we found ourselves at the Anaheim expo behind the 5% booth talking about sponsorships. Followed up by the Olympia expo when we officially became sponsored athletes of 5%.  The dream came true!!!
Getting ready for competitions is our main focus of our everyday life. We began competing in July 2015 and the first show was masterpiece competition on the 4th July. Being a part of this celebration  and sharing the stage with other lovely fit girls that share the same passion as us was an amazing experience.
Our next competition was an NPC show in Culver City later that same month, followed by another NPC event in September. We have learned so much and matured as athletes during the preparation for all of the shows. Every time the experience is different and you never stop learning about yourself and your limits. We are super excited about our next competition. This time it is going to be a national level but in our original hometown of Athens, Greece! We are both so proud that we made it to the Nationals and we can't wait to be competing for the first time in front if our family and friends!
FOLLOW THE FIT TWINS  (@thefitwins) ON INSTAGRAM
Photos courtesy of Maria and Chrysa Syngrou