Rich Piana's 5% Athlete Spotlight: Eric "Viking" Hinckley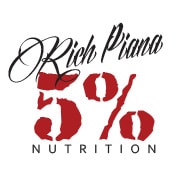 Eric "Viking" Hinckley is one of my buddies and was there with me when we first started "1 Day U May" before 5 Percent Nutrition. He's one hell of a fighter in MMA but I feel that he doesn't have anything to prove at this point, but he still wants to fight. Unless you're in the UFC or Bellator, you're not making any real money to speak of. Sure, you can make decent money doing underground bar knuckle fights, but only if you're involved with the right people.
I sat down with Viking and we were shooting the shit a little…
RICH PIANA: MMA is similar to bodybuilding in that it is an individual sport. Since you are involved in both, what are some of the more important aspects of both?
VIKING: Well, a good fuckin' diet being one and conditioning. From my point of view, those are pretty much the two big components. Don't get me wrong; I love to eat, but when you do what I do on a daily basis, sometimes you gotta sneak in some fuckin' junk food. I train to maintain as much lean muscle as I can for my weight; along with that come strength and conditioning. 
Me personally, I like to look good when I fight, as does a bodybuilder competing. I'm the whole package. Some will probably call it arrogance, but I call it knowing who I am and what I'm about. You'll either love me or hate me, but at the end of the day, I am who I am and I make no apologies for it.
RICH PIANA: There are many politics involved in competitive bodybuilding that are well known but not spoken about by the competitors for fear of retribution. Is there a similar situation with MMA as far as it's basically a monopoly with the UFC like it is with the IFBB?
VIKING: Oh, fuck yeah, there is…steroids being one of them. Which is without a doubt being used by many fighters today just like in bodybuilding. Big fights being fixed at times. It's being talked about more then ever. Money makes you funny, controls everything and  it's the root to all evil.
RICH PIANA: What's it like fighting in underground MMA events?
VIKING: I can say from personal experience it's a lot more personal and way more fucking intense! It's not looked at as a sport, but like it was when cage fighting first started. When (Ken) Shamrock & Kimbo (Slice) would get in the cage and beat the shit out of each other. It's a true test to see who the baddest mutha fucker is and who is standing in the end! Is it a sight to look at? No, when you and the other fighter are all bloody standing there, you know you gave it your all, but there is only one winner. 
An underground fight comes down to the last man standing and who is the baddest mutha fucker standing with cash to show for it…rather then trying to ride out the rounds to get the win with a check to show for it.
RICH PIANA: When we first started 1 Day U May, did you ever think that it would grow into the monster that 5% Nutrition has become?
VIKING: Bro, I knew it was going to be whatever da fuck you wanted it to be and whatever you wanted it to turn into. I knew the vision you had, and what  started with just a few of us has turned into a worldwide brand. With you behind it and what you stand for, it was destine to go global. Fukin' crazy.
RICH PIANA: When, where and why did you first acquire the nickname Viking?
VIKING: The when and the where are the same. My father and him being part Norwegian first of all played a part in his naming me. During his childhood, he liked the movie Eric the Red Viking. As for growing up, he instilled that warrior-like mentality. He was a hard-nosed man who didn't  take no bullshit from anyone so I had to own up to my name.
Be sure to follow Viking on

Instagram

. 
Photos courtesy of Eric Hinckley