MuscleSport Magazine Goes International
We are proud to announce a new partnership between MuscleSport Magazine and Kleber Caramello, a bodybuilding media machine that has covered events all around the world. The partnership with the popular Brazilian journalist began last weekend at the 2016 NABBA World Championship in none other than his home country.
Caramello has worked with Muscular Development Latino for the past four years and is a very influential person in the Brazilian bodybuilding/fitness market. He is also a speaker at several major events such as the Arnold Classic Brazil.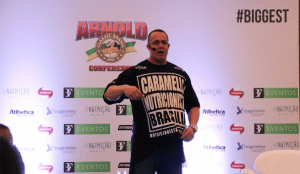 He was quite busy at the recent NABBA show and the below photos and video are just examples of how much he got around that weekend.
When MSM was contacted by Caramello about expanding our product to Latin America, we were flattered and then blown away once viewing his material from previous events. To see our logo up on his banner backstage and all of the interviews he conducted (language barrier, notwithstanding) was definitely something that we look forward to move forward with for the long term.
This content producing partnership is a win-win-win situation, if you will, between MSM, Caramel and the competitors/fans. Stay tuned for more details and news about an upcoming column in our magazine by Caramello.