Talkin' Smack with Gregg Valentino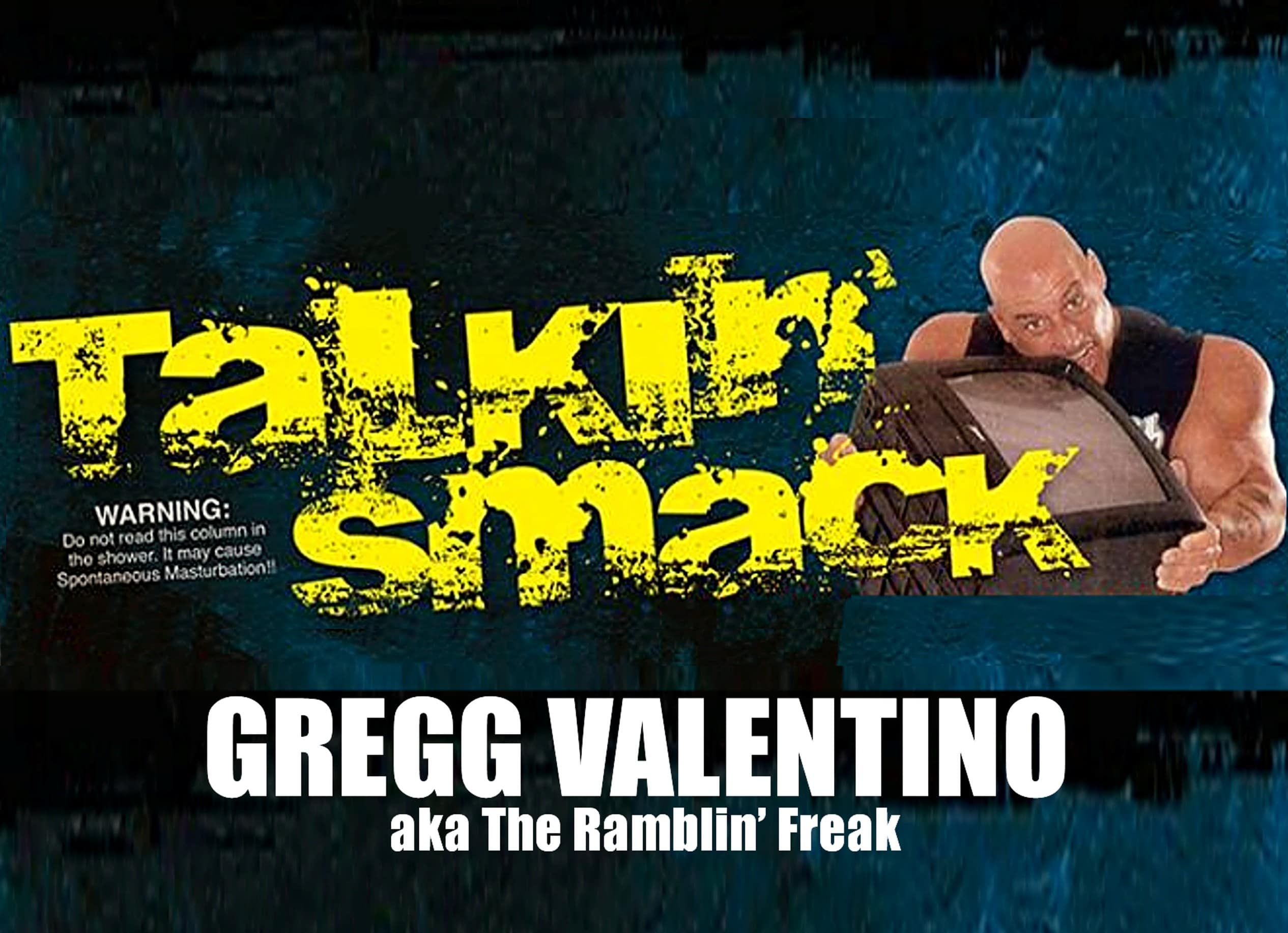 I WAS OUT TILL 8am LAST NIGHT AND I'M SHOT. YO, I USED TO LOVE GOING TO NEW YORK CITY NIGHT CLUBS, BUT NOW I'M OVER THEM! WHENEVER I GO OUT TO NIGHT CLUBS, ALL I GET IS GUYS WITH BAD BREATH TALKIN TO ME, SPITTIN' ON ME, TALKING ABOUT FRIGGIN' BODYBUILDING, ASKING ME QUESTIONS ABOUT THE SHIT (STEROIDS), AND ASKING ME ABOUT SHIT I DON'T WANT TO HEAR WHEN I'M OUT IN THE CLUBS!!!
AND EVERY ONCE IN A WHILE I GET SOME DRUNK CHICK TALKING TO ME WITH HER NOSE IN MY EAR AND WITH BAD BREATH LIKE A GUY WHOSE BEEN DRINKING BEER ALL NIGHT …YUKKKK!!!…KEEP IN MIND I GOT A BIG ITALIAN NOSE. I CAN SMELL YOUR BREATH FROM THE NEXT ROOM. THAT'S PART OF MY CURSE IN LIFE!!!!
I REMEMBER BACK IN THE 80s WHEN GUYS USED TO USE THAT DMSO SHIT AND THEIR BREATH WOULD BE STINKING UP THE WHOLE GYM!!!…I WOULD WANNA GRAB A LAT BAR AND CAVE THEIR FUCKIN' HEADS IN!!!
I ONCE HAD A FAMOUS SEXY 80's / EARLY 90's FEMALE BODYBUILDER – MAGAZINE COVER MODEL. I WONT SAY HER NAME (Sharon Bruneau) BUT SHE BLEW FOUL RAW TUNA & DMSO BREATH RIGHT IN MY FACE!!!…. IT WAS ONE OF THOSE DEALS WHERE YOU BREATH IN JUST AS SHE WAS BREATHING OUT A GIANT WAFFTY – BREATH BOMB AND UNFORTUNATLY I GULPED THAT SHIT IN MY MOUTH!!!…SHE WAS SO HOT LOOKING, BUT THAT BREATH WAS CASTRATING. IT KILLED ANY SEXUAL DESIRES I HAD WHEN I TALKED TO HER. YO ,I IMMMEDIATLY STARTED CHOKING & COUGHING REALLY BAD. IT WAS TERRIBLE. I COULDN'T BREATHE MYSELF…. I FELT A BIG PUKE BALL IN MY THROAT, HER BREATH WAS THAT FUCKING BAD.
SHE NOTICED SOMETHING HAD ME GAGGING, SO AT THAT MOMENT, THE FAMOUS SEXY FEMALE BODYBUILDER LEANED OVER ME, SHE THEN PUT HER HAND ON MY BACK AND ASKED IF I WAS ALRIGHT…YO', HER "BREATH OF DEATH" HIT ME AGAIN LIKE A SECOND SCUD MISSILE ATTACK… I SWEAR TO GOD I WAS NOW ON MY KNEES GASPPING FOR AIR!!!…. THEN AT THAT VERY MOMENT BOB BONHAM CAME OVER TO US CAUSE THIS WAS AT ONE OF HIS SHOWS AND HE HAD INTRODUCED US TO EACH OTHER.
BONHAM SAW THAT I WAS CHOKING AND ASKED IF I NEEDED SOME WATER…HE WAS STANDING ABOUT 5 FEET AWAY WHEN MS.SEXY FEMALE BODYBUILDER SAID, "YEAH, BOB GET HIM SOME WATER." BOB THEN SAID TO HER, "OH MY GOD WHAT ARE YOU EATING? YOUR BREATH IS REALLY BAD." YO, I GOTTA TELL YA, AT THAT VERY SECOND WHEN I HEARD BOB SAY THAT, I STARTED COUGHING AND LAUGHING SO HARD I TOTALLY COLUDNT BREATH AT ALL!!!…. I FUCKIN LOVE BOB BONHAM & THAT WAS SOME BREATH…WOW!!!!!

My girlfriend Mercedes told her mother that she was watching a Spaghetti Western on TV. Her mom quickly sat next to Mercedes on the couch and said, "You had me at spaghetti!!!"…FIGURES THAT FAT PIG!!!!…. YO, LISTEN UP…I'M DONE!!!…. MY MANHOOD IS GONE FOREVER!!!…. EVEN A SHOT OF SUSTANON AND A FEW ANADROLS CAN'T HELP ME NOW!!…. YO, CHECK IT OUT, I JUST GOT HOME FROM MY DAUGHTER'S LACROSSE GAME AND MERCEDES MOTHER, aka "THE LATINA- ANDRE THE GIANT" WHO IS STAYING WITH US FOR A WEEK, WAS HOME ALONE AND APPARENTLY THE HEFFER LEFT THE BATHROOM DOOR OPEN …NOW AT FIRST ALL I COULD HEAR WAS SPANISH MUSIC BLASTING FROM THE BATHROOM!!! AND WHEN I WALKED BY, BY ACCIDENT I SAW HER BENT OVER WITH AN ELECTRIC RAZOR BUZZING AS SHE WAS SHAVING HER HAIRY BALLS, I MEAN SOMETHING – IN FRONT OF HER BECAUSE ALL I SAW WAS HER BIG FAT ASS – BENT OVER AND AIMED AT THE BATHROOM DOOR WAY!!!
*COUGH – CHOKE* AND UNFORTUNATELY I CAUGHT A GLIMPSE OF HER GIANT STAR-FISH (HER ASSHOLE) AND I ALMOST PUKED!!!…. I SWEAR I EVEN ALMOST CRIED… IT WAS SO FRIGGIN' HORRIFIC, THAT STAR-FISH (ANUS) WAS HUGE AND HAIRY!!!…EXCUSE ME, I NEED TO SPIT. HHUUUUCCCCCKKKKK TUUUU…OH MY GOD, WILL SOMEONE PLEASE GET ME A FULL-SYRINGE OF TESTOSTERONE, MY DICK IS SHRIVELING!!!…THAT BITCH IS A MANHOOD KILLER!!!!…YO, I'VE HAD NIGHTMARES EVER SINCE… Mercedes Mother Anna has her own fragrance, which smells like 'Low Tide!!!!' …OH, YEAH BABE. Her milkshake brings all the cats & dogs to the yard!!!…. DAMN, THAT GIANT STAR-FISH.YUKKK!!!…. I CAN'T SLEEP AT NIGHT ANYMORE!!!
THE GREAT CARB DEBATE WITH MY 500-POUND FRIEND…UMM YEAH…REALLY, HE IS 500 POUNDS!!!! AND HE DOESN'T WORK OUT SO IT'S PURE FAT-MAN-LARD!!!!…HE HAS THE AUDACITY TO TELL ME THAT EATING "NO CARBS" IS "NOT HEALTHY" SO I TOLD HIM > "UMMMM, BEING 500 FUCKING POUNDS IS NOT HEALTHY" AND NEITHER IS EATING A WHOLE 2-POUND BAG OF M&M's AND WASHING IT DOWN WITH A LITER OF COKE!!!!
YES, IT'S TRUE. HE EATS LIKE THAT!!!!…LET ME EXPLAIN: I RECENTLY TRIED TO HELP MY FRIEND LOSE A FEW HUNDRED POUNDS. I EVEN SET HIM UP WITH DAVE PALUMBO FOR A DIET CONSULTATION, AND AFTER JUST "ONE DAY" OF VERY LOW CARBS, MY FAT 'MORBIDLY OBESE' FRIEND CAVED IN!!!…HE QUIT!!!…WE HAD A HUGE ARGUMENT OVER EATING CARBS…MY FRIEND IS 'ADDICTED TO CARBS.' HE EVEN HAD THE "GASTRIC BYPASS SURGERY" AND LOST OVER 250 POUNDS A FEW YEARS AGO, ONLY TO GAIN IT ALL BACK IN A MATTER OF MONTHS!!!…YO, HE EATS WHOLE CHOCOLATE CAKES AND A SHITLOAD OF CANDY!!!!…HE IS A JUNK FOOD ADDICT!!!!…I FINALLY GAVE UP. I LOVE MY FRIEND BUT I GUESS THE OLD SAYING RINGS TRUE > Advice is worth what you paid for it, and so is a Twinkie!!!
BACK IN THE DAY: "Success causes Jealousy and envy from the unsuccessful." …GV …RECENTLY, A VERY FAMOUS BODYBUILDER WHO I CONSIDER A PERSONAL FRIEND OF MINE AND WHO IS EASILY TOP 5 IN THE OLYMPIA WAS TALKING TO ME ABOUT ANOTHER AMATEUR BODYBUILDER, WHO AT ONE TIME WAS SUPPOSED TO BE HIS "VERY CLOSE FRIEND."…NOW THIS "VERY CLOSE FRIEND" IS ALSO VERY POPULAR IN THE BODYBUILDING WORLD, BUT HE HAS NEVER GOTTEN HIS PRO CARD…YET THIS "VERY CLOSE FRIEND" HAS COMPETED AND HAS BEEN A 'FAN FAVORITE' MANY TIMES IN MANY NATIONAL LEVEL SHOWS – BUT NADDA!!!!

ANYWAY, SOME YEARS BACK ON THE NIGHT THAT MY FRIEND (LETS CALL HIM 'THE PRO' FROM HERE ON IN THIS STORY) HAD JUST WON HIS CLASS IN THE NATIONALS, HE AND HIS "VERY CLOSE FRIEND" WERE IN THE HOTEL RESTARAUNT EATING AND CELEBRATING MY FRIEND 'THE PRO'S' BIG NATIONALS WIN!!!…. AFTER EATING LIKE A PIG, 'THE PRO' TOLD ME HE (THE PRO) HAD TO TAKE A BAD SHIT, SO HIS "VERY CLOSE FRIEND" GAVE HIM THE KEY TO HIS ROOM SO THE PRO COULD TAKE HIS SHIT IN "VERY CLOSE FRIENDS" ROOM!!!
THE PRO' TOLD ME WHEN HE WAS SITTING & SHITTING ON THE TOILET IN HIS "VERY CLOSE FRIENDS" ROOM, HE KEPT HEARING A BUZZING NOISE. IT WAS HIS "VERY CLOSE FRIENDS" CELL PHONE AND IT KEPT GOING OFF….'THE PRO' FINSHED SHITTING, WIPED HIS STRIATED ASS AND GRABBED THE CELL PHONE TO BRING DOWN STAIRS TO HIS "VERY CLOSE FRIEND" WHEN ALL OF A SUDDEN THE PHONE WENT OFF AGAIN IN 'THE PROS' HANDS…HE LOOKED AT THE PHONE AND SAW A TEXT MESSAGE…'THE PRO' SAID HE NOTICED 'HIS NAME' WAS IN THE TEXT SO HE CLICKED ON THE MESSAGE AND READ A FEW OF THE TEXTS.
THE MESSAGES STARTED WITH HIS "VERY CLOSE FRIEND" TEXTING HIS GIRLFRIEND SAYING "OMG XXXXX (THE PRO) IS NOW AN IFBB PRO. LOL"…THEN HE FOLLOWED THAT BY SAYING, "CAN YOU BELIEVE THAT BULLSHIT? I AM SICKENED" …YES, 'THE PRO' WAS DEVESTATED. HIS "VERY CLOSE FRIEND" WAS TELLING HIS GIRLFRIEND (WHO WAS NOT AT THE SHOW; SHE WAS BACK HOME) THAT 'THE PRO' GOT HIS PRO CARD AND HE (VERY CLOSE FRIEND) IS DISGUSTED & SHOCKED!!!
NOW THE "VERY CLOSE FRIEND'S" GIRLFRIEND MUST NOT HAVE GOTTEN HIS TEXT RIGHT AWAY AND JUST HAPPENED TO REPLY WHEN 'THE PRO' WAS IN THE ROOM TAKING A SHIT…MEANWHILE THE "VERY CLOSE FRIEND" TOTALLY FORGOT HIS PHONE IN THE ROOM AND HAD NO IDEA THAT 'THE PRO' WAS GONNA READ HIS TEXTS…. THE GIRLFRIEND RESPONDED "DON'T WORRY BABY, YOUR DAY WILL COME TOO!!!"…."IT'S OK, LET HIM (THE PRO) HAVE HIS GLORY TODAY, HE AINT GOING NOWHERE AS A PRO ANYWAY"
YO,I HATE BACKSTBBERS!!!…OH, TRUST ME. I'VE BEEN THERE, TOO, BY PEOPLE I NEVER THOUGHT WOULD FUCK ME!!!…ANYWAY, FAST FOWARD TO TODAY, THAT WAS OVER 5 YEARS AGO!!!!…LATELY MY FRIEND aka 'THE PRO' HAS WON A FEW PRO SHOWS AND IS ONE OF THE HOTTEST NAMES IN THE SPORT AND IS RIGHT UP THERE IN THE RACE FOR THE OLYMPIA CROWN…. AND ALL THESE YEARS LATER HIS "VERY CLOSE FRIEND" HAS STILL NEVER WON ANYTHING AND IS SUNDAYS NEWS ON MONDAY!!…OH, AND INCASE YOU'RE WONDERING, NO, MY FRIEND 'THE PRO' NEVER TOLD HIS "VERY CLOSE FRIEND" WHAT HE READ ON HIS PHONE!!!…'THE PRO' JUST KEPT HIS HURT INSIDE AND USED IT AS "ROCKET FUEL" TO GET WHERE HE IS TODAY – ABOUT TO WIN OR PLACE IN THE TOP 5 AT THIS YEARS MR.OLYMPIA…. AND THEIR FRIENDSHIP IS OBVIOUSLY NOT WHAT IT USED TO BE… A real friend isn't someone you use and throw away; a real friend is someone you use again and again!!…. FUCK OFF!!
For One on One personal training or Media Appearances contact directly Gregg at : Gregg@GreggValentino.net
Gregg Valentino 's website : http://www.greggvalentino.com/
Like Gregg Valentino's Facebook Page : https://www.facebook.com/gregg.valent…
Like Gregg Valentino's Facebook fan Page :https://www.facebook.com/pages/GREGG-…
Read Gregg Valentino's magazine column : https://www.facebook.com/pages/Muscle…
Gregg Valentino's Twitter : https://twitter.com/gregg_valentino
Follow Gregg Valentino's on Instagram : https://instagram.com/gregg_valentino/
Subscribe to Gregg Valentino's Youtube Channel : https://www.youtube.com/user/8THWWONDER