"Site Injection Infections, Not Synthol"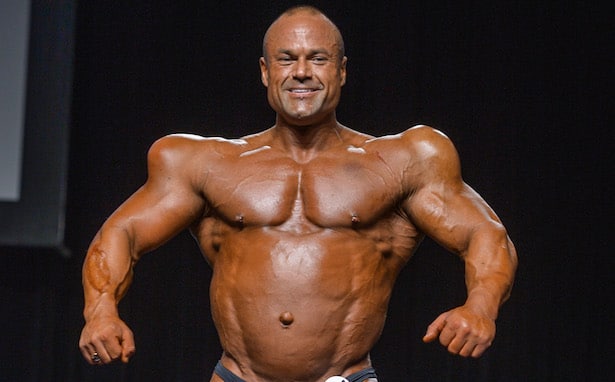 "I've never even seen synthol, let alone used it. I don't think that telling the public is a big deal since I was open about my show (steroid) cycle. No synth; no implants. So it's time for the public to get over it."
Kenny O'Neil didn't beat around the bush when asked straight out about how he appeared on stage recently in Vancouver. The photos of him made their way around the Internet and the Canadian amateur bodybuilder was being criticized for his deltoids and what appeared to be either a site enhancement oil experiment gone bad and/or a double infection from local steroid injections.
If you want to learn how you can get ripped the right way check out BodyNutrition.org
"When I saw the pictures online following morning portion of the show, I knew that I would be placed last," O'Neil, 36, said, "but I didn't know that I would be made the laughing stock (of the industry) on social media; that was a total shock to me."
O'Neil explained exactly what happened to cause this. "About three weeks out, I got simultaneous infections in each delt due to the overuse of water-based testosterone suspension and Winstrol depot," he remarked. "I tried to use a little more than I did last year and my shoulders didn't agree. One day, my left shoulder was warm and red and the next day, my right shoulder basically doubled in size." 
Looking back, O'Neil realizes that he should have seen a medical doctor, but the veteran competitor instead decided to take a natural route and merely have them drained. "This worked great until the (morning of) the weigh in when my right arm and shoulder flared up and then later in the evening, the left one did, as well."
Once the show was in the books, O'Neil did visit a doctor and had them drained again and was also put on a 10-day antibiotic. "They are about 85% healed and will look like 10-pin bowling balls when I compete (next) in 2018," he said.
For someone who has been training for 25 years, O'Neil is a well-rounded individual who does not have to rely on bodybuilding. He is a father and musician and simply enjoys living the bodybuilding lifestyle. He took the stage for the first time weighing a shredded 195 pounds at 5'9.5″ at the 2002 NLABBA show. He took second in the light-heavyweight class and then packed on an additional 17 pounds two years later and was the heavyweight runner-up. "In 2006, I trimmed down to 208 pounds and took the Newfoundland heavyweight title," comments O'Neil.
But his bodybuilding career was nearly permanently derailed when he was involved in a near-fatal vehicle accident in 2008 and had to spend an entire month in the hospital. He needed to undergo emergency surgery on two separate occasions to repair his right wrist and forearm, which was shattered into over 60 pieces. "In both trips to the operating room, I had a nurse tell me that I may wake up an amputee," he recalls. 
Luckily for O'Neil, new titanium technology had just become available and over 80 percent of the bone was replaced with metal, which holds 10 times stronger than human bone. But he was not out of the woods just yet. "I had five total surgeries to my arm and my chances of being able to train again looked very bleak. The doctors gave me zero chance to return to the gym, but I went to physical therapy six times a week for six months and on the three-month anniversary of my last surgery, I did my personal best lifts on the bench, squat and deadlift."
In 2013, O'Neil returned to the stage and placed third as a heavyweight at the Atlantic Canadian Championships. Two years later, he won the British Columbia Provincial show's heavyweight class at 224 pounds.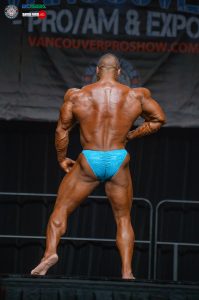 Looking back, O'Neil realizes that he should have skipped the Vancouver show but does not regret competing. "What happened (to me) happens to every bodybuilder who has trained for years," he said. "Infections are something all bodybuilders encounter at one point or another. The timing of mine was terrible and because of that, (everyone) had fun (criticizing) me.
"In life, you have to fail to succeed and, trust me, my return to the stage will be no laughing matter."
EDITOR'S NOTE: Just like Dave Palumbo did last week on RX Muscle, we wanted to give Kenny O'Neil the opportunity to defend himself against all of the Internet criticism he received following the Vancouver show. You have to draw your own conclusion if he is being truthful about not using synthol. And to be quite honest with you, what difference does it really make? Synthol has been used by practically every bodybuilder at one time or another and only O'Neil knows for sure what he did – and did not – inject into his body. 
Be sure to follow Kenny O'Neil on FACEBOOK and INSTAGRAM.
Photos courtesy of Kenny O'Neil (By David Ford)