Kelly, 49ers, Goodell & NFL All Equally Guilty in Kaepernick Fiasco
William J. Hauser
Colin Kaepernick has made it abundantly clear that his protest is directed at the police and not our military. Sure, he did allude to that fact in his first statement once his refusing to stand for the National Anthem came to light, but photos of him at practice wearing anti-police socks have confirmed where his problems lie.
The 49ers quarterback actually wore the offensive socks – which depict a cartoon version of a pig wearing a police cap – last month during training camp before he took his political stance. Kaepernick posted on Instagram on September 1 that he "wore the socks in the past because the rogue cops that are allowed to hold positions in police departments not only put the community in danger, but also put the cops that have the right intentions in danger by creating an environment of tension and mistrust."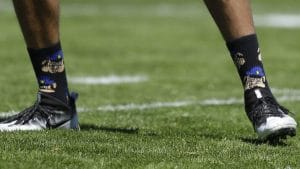 But one doesn't get to pick and choose who their targets are when they broad brush an entire community, in this case, the police.
The bigger picture here is that this is a situation that has been allowed to fester and has become a public relations nightmare for Kaepernick, his team, the league and commissioner. Niners head coach Chip Kelly should never have allowed one of his players to wear those type of socks. He is running the show and should have been more assertive in that situation, as he should have when Kaepernick refused to stand during the playing of the Star Spangled Banner.
Team rules can even supersede league rules and a head coach can tell his players that they have to all stand together on the sideline during this time. He has that right to do so and could have squashed this before it became public. The 49ers have not addressed the socks issue and have only stated that they "recognize the right of an individual to choose and participate, or not, in our celebration of our National Anthem."

Predictably, one of Kaepernick's teammates – safety Eric Reid – joined him in taking one knee (instead of sitting), and Seattle Seahawks corernback Jeremy Lane took a seat on his team's bench during the playing of the National Anthem on Thursday night before their respective team's fourth and final preseason contest.
This devisive behavior has grown and unless someone in charge takes action, it will hang over the 2016 NFL season like a dark cloud. Instead of speaking about football, the talk is about politics and race relations – the type of subjects that sports are supposed to be an escape from. There are more fitting stages for this than the gridiron and Kaepernick and company are using the NFL to make this statement, one that has many critics (including this space.)
What makes this even more polarizing is that the NFL has allowed an anti-police mentality with the then-St. Louis Rams players imitating the since-disproven 'hands up, don't shoot' gesture and Beyonce disgracing the Super Bowl halftime show with a tribute to the Black Panthers. Last, but certainly not least, was the Dallas Cowboys request to honor the five fallen police officers with a helmet decal disapproved. The 'Arm in Arm' decal was a wonderful gesture by the organization known as America's Team to show respect for the families of the fallen heroes who were executed sniper style during a Black Lives Matter protest.
Considering that the NFL has become the 'thug league,' it would have behooved commissioner Roger Goodell to allow the Cowboys to wear the decal, much like the New York Jets, New York Giants and New England Patriots did after the Sandy Hook Elementary School incident. Football players have been arrested and charged criminally at an alarming rate and for as much as Goodell puts his foot down with heavy fines and suspensions, he picks and chooses when to do so and that has left him wide open for criticism.
Goodell needs to set a precedent with this National Anthem situation before it gets out of control. Luckily for him, the 49ers do not play their season opener on Sunday, September 11. (They have the nightcap for the Monday Night Football double header.) How embarrassing would it have been for the NFL to have one (and probably more, judging by Thursday night) of their players disrespecting the country and our flag on the 15th anniversary of the terrorist attacks in New York, Washington, DC and Pennsylvania?