Inside the Life of a Female Bodybuilder
The movie "Too Big for the World" is about female bodybuilding, something not too many people are familiar with. Within the history of sports, men have always dominated athletics and bodybuilding is no different. All major contests have eliminated the women's division, which leaves us with very few sponsorships and limited prize money to earn a living as a professional athlete. The Wings of Strength federation has fortunately provided us with the only opportunity to pursue our passion of competing on stage. This documentary visually displays specific struggles of competitive female bodybuilders who are a dying breed. In my opinion, society does not accept women with large muscles.
Since bodybuilding requires the majority of my life working out in a gym at this professional level, it is difficult to obtain a typical full-time job. Most female bodybuilders, whether they are amateurs, or don't compete at all, partake in some form of modeling business. Some, but not all, get paid to take their clothes off. We are limited to a small group of muscle fetish websites because our content is not attractive to your typical pornography consumer. And considering that every inch of our bodies need to be shaved, one should be aware of the pros and cons of laser hair removal.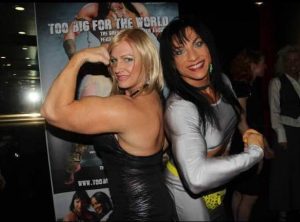 If I were to make a documentary, it would be about my self-made entrepreneurial skills that provide consistent income via webcam, selling X-rated content and snapchat memberships. It would also expose secrets that most women in this sport are too embarrassed to reveal. The side effects of building muscle mass on a feminine frame can be unforgiving. We choose to be one step away from becoming transgender by taking the necessary hormones to compete successfully. It is nearly impossible for a woman to build a sizeable amount of significant muscle without the aid of steroids.
These qualities are universal and irreversible. Most people would be intrigued by the fact that I gained 25 pounds of muscle in only 10 weeks while maintaining ripped abs. I turn heads in public when they hear the tone of my voice as it projects from this lipstick-covered mouth.
The body is so resilient that my freakishly large clitoris has grown even bigger within this past year of competing. I like to call it my "money-maker" because it remains to be the main focus of private webcam shows. Sometimes I use a clit-pump, stroke it like a hard cock or flex my veiny clit with amazing muscle control skills.
Some of the other harsh consequences of injecting male hormones into a body of either sex are unwanted hair growth and acne. I look like the infamous bearded lady before getting waxed after spending thousands of dollars on laser-hair-removal services that were unsuccessful! I have also gone through months of painful Accutane treatments but still suffer from cystic acne whether I am on drugs or not because it runs in my family. These are things that cause negative judgments by the average person who is ignorant to our bodybuilding lifestyle. 
It is common for men to go bald, however, when female bodybuilders' hair starts thinning from anti-estrogens, they are forced to wear wigs. After sacrificing our feminine identity for the sport that we love, at the very least, provide a stage for us to compete on. Give respectful credit to our hard working ethics and stop the harassing comments on social media. Everyone deserves to live a liberating life and pursue his or her dreams.
Check out the movie trailer for Too Big for the World and support female bodybuilding.
Photos by Dan Kennedy and EG Pro Photo/Courtesy of Ripped Vixen
After graduating on the Dean's List, Ripped Vixen missed that competitive edge she has known her whole life. All that time invested in the gym inspired RV to become a personal trainer. She truly developed a passion for health and fitness.  Shortly after acquiring a NASM certification she started her own business personal training.  Eight years later, the muscle queen resides in Los Angeles training celebrities for a living.  Ripped has fulfilled her dream as a professional bodybuilder in Southern California working out at Gold's Gym Venice!  This is when the growth process really started to change and you could see her physique morph drastically. Fans have inspired Mistress Ripped Vixen to show off her ripped body by performing live on webcam. She flexes her oiled muscles wearing a thong bikini or sexy lingerie.  Check out her show times by following @RippedVixen on Twitter!
Website  Store  Webcam  Clips4Sale  Wish List  Twitter  Facebook  Instagram
LinkedIn  Tumblr  Vine  Google+  Pinterest  Fet Life  Mistress Vixen