Zlatan is The Real Deal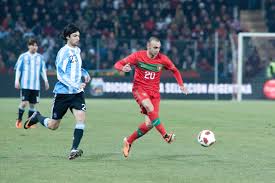 Wikipedia Commons/Labeled For Reuse
What can you say about Zlatan Ibrahimovic that hasn't already been said? The Swedish striker is one of the greatest players to ever play the game and one of the biggest characters to grace it too. He's a man who has delivered goals wherever he's been and has starred on the International scene too. He's now playing for his 8thclub in LA Galaxy and he's already making headlines, but would you really expect anything less?
Ibrahimovic, 36, has an unbelievable goal scoring record from his career as a whole so far having scored 418 goals in 700 club games. He also hit a stunning 62 goals in 116 games for his beloved Sweden too, so it comes as no surprise when people refer to him as a footballing god, and you wouldn't find Zlatan arguing with that statement either. Before joining LA Galaxy, Ibra had scored 29 goals in 53 games for Manchester United, but after making a return from a serious knee injury Zlatan decided it was time for one final challenge.
While some players may head to the MLS in order to secure their final pay day, you could immediately tell that wasn't Zlatan's intention, as he announced his arrival in typical fashion on social media and in newspapers. Even at 36 years old, the Malmo born striker still has that thirst for success and he wasn't about to let anything, or anyone, get in his way when it came to delivering on the pitch for his new team, just as he had for his previous seven employers.
Since moving to LA Galaxy in March, Zlatan has made a total of 17 appearances so far for the team in the MLS and in that time he's scored 15 goals while also providing 4 assists for teammates. When you consider the time the Swede has spent on the pitch playing, his goal scoring record looks even better. Zlatan is currently averaging a goal a game basically and this has been a huge plus for both LA Galaxy and the MLS too. In his last outing against Orlando City, Zlatan bagged a hat trick in a 4-3 victory, and he's scored 12 goals in his last 9 games.
Zlatan's arrival and goals scoring form has been integral to LA Galaxy moving up the table. They're currently sat in third place, only a point shy of neighbours Los Angeles FC, and they're currently enjoying a 9-game unbeaten run, of which they have won 5. Zlatan has the ability, and the form, to turn LA Galaxy into a real force in the MLS once again and more importantly a side who win things. The league is actually growing in popularity abroad and more sports and betting sites, including Betting.com is covering more of the games and seeing more interest from their members.
They're moving in the right direction already and if Zlatan keeps delivering in front of goal, who knows where they will end up. They have been without success for four years now but Ibra's arrival has given them hope and the fans a reason to dream once again. You can bet your bottom dollar that he won't rest until he's won something with the Galaxy at least!