2019 Arnold Classic Competitors Lists Released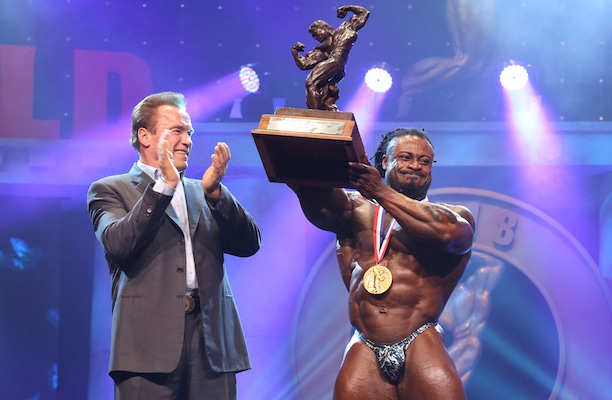 Lorz Communications
William "The Conqueror" Bonac, who won the 2018 Arnold Classic for the biggest victory of his professional career, and two former Arnold Classic champions will do battle as the prestigiousprofessional men's bodybuilding competition celebrates its 31st year in 2019.
The Arnold Sports Festival will feature IFBB Pro League contests in eight divisions in 2019.
Bonac, 2017 winner Cedric McMillan and 2007 champion Victor Martinez lead a field of 12 professional bodybuilders who will take the stage in Columbus, Ohio for the 31st Annual Arnold Classic on March 2, 2019. Brandon Curry, who won Arnold Classic South America in 2013 and Arnold Classic Australia in 2017, and Roelly Winklaar, 2018 Arnold Classic Australia winner, will also contend for the title. Mikhail Volinkin received an automatic invite for winning the 2018 Arnold Amateur.
Whitney Jones, who overcame serious neck and knee injuries to win the Fitness International for the first time in 2018, is back to defend her title. She will be challenged by Kate Errington, second in Columbus in 2018, and Fitness Olympia runner-up Ryall Graber and Myriam Capes, third at the Fitness Olympia in 2018.
A new champion will be crowned in Figure International as 2018 champion Candice Lewis-Carter has retired. Cydney Gillon, the two-time Figure Olympia champion who finished second in Columbus in 2017 and 2018, will be looking for her first Figure International crown. Nadia Wyatt, third at the Olympia in 2018,Bojana Vasiljevic and Jessica Reyes Padilla are also among the field of 14 contenders.

There will also be a new champ in Bikini International as 2017 and 2018 winner Angelica Teixeira will not compete. Challengers for the title include 2018 runner-up Janet Layug, two-time Bikini International champion Ashley Kaltwasser and Lauralie Chapados, fresh off a second-place finish at the Bikini Olympia and four contest wins in 2018. Sonia Lewis received an automatic invite for winning the 2018 Arnold Amateur.
Three-time defending Arnold Classic Pro Wheelchair champion Harold "King Kong" Kelley will try to make it four in a row.
Arnold Classic Physique, Arnold Men's Physique and Women's Physique International will feature competitions open to any IFBB Pro League athlete who has finished in the top 5 in a pro contest in 2018. Visitwww.arnoldsportsfestival.com for the complete competitor lists.
The Arnold Classic Physique, Fitness International, Figure International, and Women's Physique International will be held on Friday, March 1, 2019; while the Arnold Classic, Arnold Men's Physique and Bikini International will be held on Saturday, March 2, 2019 with prejudging and finals at Battelle Grand.
2019 Arnold Classic, Arnold Classic Pro Wheelchair, Fitness International, Figure International, Bikini International Official Invite Lists:
Arnold Classic (12)

William Bonac

Rafael Brandao

Brandon Curry

Charles Dixon

Steve Kuclo
Josh Lenartowicz

Victor Martinez

Cedric McMillan

Luke Sandoe

Mikhail Volinkin

Akim Williams

Roelly Winklaar

Arnold Classic Pro Wheelchair (7)

Anand ArnoldKris Dim

Joshua Foster

Steve Lister

Harold Kelley

Daniel Minster

Joshua Rucker

Fitness International (13)

Jaclyn Baker
Myriam Capes

Tiffany Chandler

Danielle Chikeles

Kristine Duba

Kate Errington

Allison Ethier

Missy Farrell-Truscott

Ryall Graber

Whitney Jones

Sara Kovach

Emma Paveley

Aurika Tyrgale
Figure International (14)

Maria Luisa Baeza Diaz

Melissa Bumstead

Brittany Campbell

Zulema Duran

Wendy Fortino

Cydney Gillon

Sandra Grajales

Michelle Lindsay

Jessica Reyes Padilla

Noelia Segura

Natalia Soltero

Carly Starling-Horrell

Bojana Vasiljevic

Nadia Wyatt

Bikini International (20)

Lauralie Chapados

Jennifer Dorie

Monica Ellis

Eli Fernandez

Marcia Goncalves

Kim Gutierrez

Ashley Jenelle

Ashley Kaltwasser

Janet Layug

Sonia Lewis

Breena Martinez

Raphaela Milagres

Katya Nosova

Cristobalina Pajares Torres

Jessica Palmer

India Paulino

Frida Paulsen

Stern Elisa Pecini

Camile Periat

Karina Skowronska
The 31st Annual Arnold Classic, Arnold Classic Physique, Arnold Men's Physique, Arnold Classic Pro Wheelchair, Fitness International, Figure International, Bikini International and Women's Physique Internationalcontests will be held March 1-2, 2019 at the Greater Columbus Convention Center in Columbus, Ohio. Visitwww.ticketmaster.com/arnold or 800-745-3000 for ticket information. VIP Ticket Packages and individual event tickets are available.
Presenting Sponsor: Midway Labs USA
Diamond Sponsor: ROGUE Fitness
Gold Sponsors: Animal, HOMAGE, Europa Sports Products, Jan Tana, Optimum Nutrition, Ricart, VPX.
Silver Sponsors: 5-hour Energy, Alani Nutrition, ALLMAX Nutrition, Best Bar Ever, Blackstone Labs, Blender Bottle, Bodybuilding.com, Body Fortress, BSN, ISO-Sport, Laura's Lean, MET-Rx, MFIT SUPPS, Monster Energy/Monster Muscle, Muscle Egg, Musclegen Research, Pure Protein, Rivalus/Rule One Proteins, Sweet Sweat Sports Research, Vanquish Fitness, Yamamoto Nutrition.
Bronze Sponsors: BPI, BulkSupplements.com, Chef Robert Irvine's FITCRUNCH Bars, Concept2 CTS Inc., Core Nutritionals/Merica Labz, Gorilla Wear, Go-Shake, Inzer Advance Designs, Isopure, Magnum Nutraceuticals, Olimp Laboratories, ONE Brands, Redcon1, SBD Apparel USA, Sling Shot, The Kooler.
For more information, including schedules, locations and hours, visit www.arnoldsportsfestival.com
SOURCE: Matt Lorz, CTA, Arnold Sports Festival, Media Relations Director