2020 Arnold Classic – Here's the Beef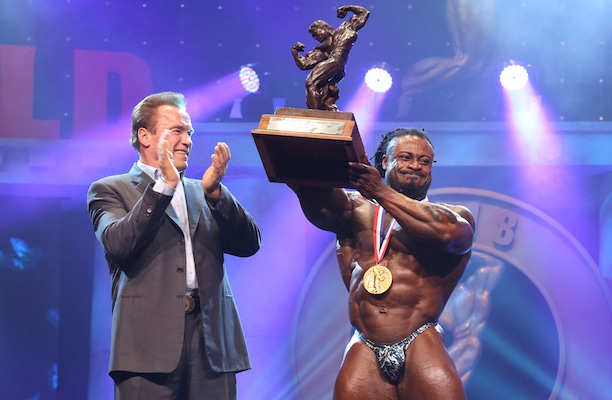 Lorz Communications
You know that a line-up is deep when it is barely noticeable that the defending champion is not a part of it. No sleight towards Brandon Curry – who went on to also win the Mr. Olympia and has his sights set on September – but there is enough talent to go around that the men's open bodybuilding at the 2020 Arnold Classic may be one of the best lineups in a single show that fans of The Iron Game have been longing for for years on end.
There are four previous winners taking the stage in Columbus on Saturday, March 7 (Dexter Jackson, Cedric McMilan, William Bonac and Victor Martinez) but they have not been alone on the lips of the bodybuilding scene with banter back-and-forth of who can capture the top spot.
By placing second to Curry in both the Arnold and Olympia a year ago, Bonac would seem to be the favorite heading into Ohio. He also won the previous Arnold and has been one of the major players in the top shows, proving his worth time and time again.
Mamdouh "Big Ramy" Ellsbiay had to take off more than a full year with a shoulder injury and is expected to compete for the first time since the 2018 Olympia. His immense size has been his calling card and when he placed as Shawn Rhoden's runner-up in Las Vegas, Elssbiay may have been at his best. It will be difficult to match, but certainly not out of the question.

Jackson, 50, is an ageless wonder and barely missed the top-three at the Olympia. "The Blade" can pad his own record of five Arnold Classic championships. Last September, Steve Kuclo came in hard and peeled enough to place sixth and ahead of the likes of McMillan, Akim Williams, Patrick Moore and Maxx Charles.
Here is the full list if invitees:
Arnold Classic (15)
Morgan Aste
Lionel Beyeke
William Bonac
Maxx Charles
Nathan De Asha
Mamdouh "Big Ramy" Ellsbiay
Dexter Jackson
Johnnie Jackson
Steve Kuclo
Josh Lenartowicz
Victor Martinez
Cedric McMillan
Patrick Moore
Sergio Oliva Jr.
Akim Williams