Steph's Guide To a Sexy Valentine's Day -A Sex & Relationship Column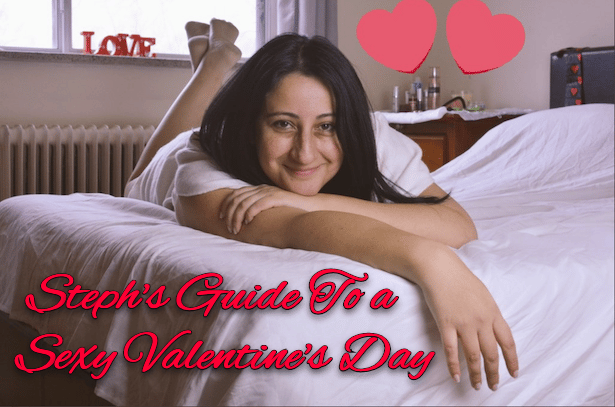 FOR THOSE OF YOU FREAKING THE FUCK OUT THAT WE ARE LITERALLY A DAY AWAY FROM VALENTINE'S DAY, THIS IS TO HELP YOU OUT; THIS ONE'S FOR YOU. VALENTINE'S DAY FALLS ON A FREAKY FRIDAY AND I KNOW YOU WANT TO GET DOWN AND DIRTY. PROBLEM IS YOU FORGOT AND THE KIDS ARE HOME SO I SAY  – FEAR NOT.
DINNER 'WHOAS':
THE RESTAURANTS WILL HAVE LONG LINE UPS AND MASSIVE CROWDS. WHILE HERE IT WILL BE COLD AS FUCK, HER OR YOURSELF SHOULD WEAR SOME NAUGHY UNDERWEAR TO WEAR UNDER ALL THOSE LAYERS. It's a turn-on knowing what's on underneath while your partner has no idea. OPT for a local sports bar and grill. As long as there's good food, neither one of you will be hangry.
GIFTS:
Florists will likely hike up prices the day off Valentine's Day. Check your local grocery store the night before. Often no one has really touched the flowers like touching the whore in the neighborhood. Chocolate is recommended. It helps, as it an aphrodisiac. Fun idea to help you score some points –buy chocolate and strawberries, melt the chocolate on your stove top, dip strawberries and let them cool on a cookie sheet in your fridge. Feed them to one another. Let me tell you – this will be a panty dropper. You can use cherries (be wary of the fucking pit), bananas and – for an added bonus – marshmallows.
Hit your local ADULT Store:
Sometimes a new lube can help.
Other Gifts:
The Teddy Bear is always a win for your sweetheart, BUT the kids are home. Too late to call your folks or make accommodations. I say MUSIC. Buy them some heavy duty headphones. Otherwise you might have to have some quiet sex.
Kids are in bed, dinner was good. Now time for some fun:
If you both like some books and want to try something new, you both may enjoy:
The Little Book of Kama Sutra
50 shades of Grey
The Art of Seduction
MUSIC FOR YOUR ROMANTIC NIGHT..HERE'S MY SEXY PLAYLIST:
LETS GET IT ON-MARVIN GAYE
WAIT(THE WHISPER SONG)-YING YANG TWINS
WICKED GAMES-CHRIS ISSAAK
THE ONLY THING THAT LOOKS GOOD ON ME (IS YOU)-BRYAN ADAMS
NICE & SLOW -USHER
NEED YOU TONIGHT-INXS
LOVE ME LIKE YOU DO-ELLIE GOULDING
I WANT YOUR SEX-GEORGE MICHAEL
KISS ME-TIN TIN
BUTTERFLY- CRAZY TOWN
HONORABLE MENTIONS
ALWAYS-BON JOVI
GRANDE AMORE-IL VOLO
SHALLOW –LADY GAGA FT BRADLEY COOPER
PILLOWTALK-ZAYN
KISS- PRINCE
HAPPY VALENTINE'S DAY TO ALL THE LOVERS AND DREAMERS.

Follow me on Twitter

and

Instagram
POST YOUR QUESTIONS YOU WOULD LIKE ME TO ANSWER ON MY SOCIAL MEDIA PAGES
Photo: Whitewolf Studios (Instagram & website)