XFL WEEK 5: HOUSTON ROUGHNECKS WIDE RECEIVER CAM PHILLIPS SELECTED XFL STAR OF THE WEEK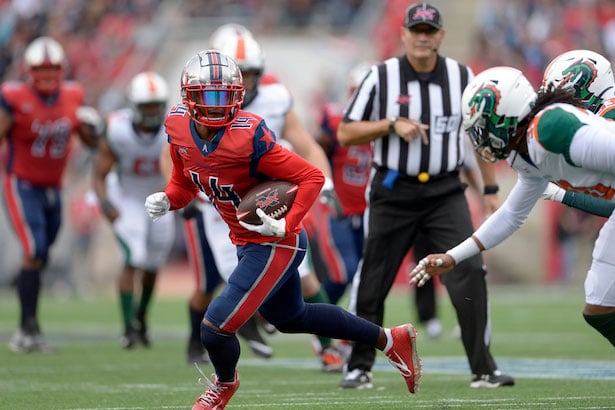 XFL
Houston Roughnecks wide receiver Cam Phillips has been selected by fans as the XFL Star of the Week for the third time this season as the team improved to a league-best 5-0. Phillips took 57 percent of the 14,000 votes on Twitter.
In the Roughnecks' 32-23 win over the Seattle Dragons Saturday, Phillips grabbed 10 passes for 122 yards and 2 touchdowns, his third straight week with two touchdowns. Phillips leads the league in receiving yards (455) and receiving touchdowns (9).
Phillips beat out St. Louis BattleHawks safety Kenny Robinson, who turned in another strong defensive performance with an interception in a close loss against the DC Defenders.
The other XFL Star of the Week finalist was safety Joe Powell of the St. Louis BattleHawks. Powell scored the XFL's first-ever touchdown on a kickoff return Sunday, taking a pass off of a reverse play more than 80 yards for a touchdown that put the BattleHawks up 12-3 and sending The Dome crowd of 29,000 into a frenzy. The Battlehawks would go on to beat the New York Guardians 29-9 and push their record to 2-1.
Each week during the season, the XFL is giving fans the power to name the league's top performer by voting for the XFL Star of the Week. On Saturday and Sunday, after each day's games, one key player from each team is nominated by XFL Football Operations and the selected players are posted on the XFL Twitter account @XFL2020. Fans then have 24 hours to vote on their top player from each day who then go head-to-head for the award.
The XFL Star of the Week is the league's top weekly individual honor.
2020 XFL Star of the Week winners:
Week 5: Cam Phillips – Wide Receiver, Houston Roughnecks
Week 4: Jordan Ta'amu – Quarterback, St. Louis BattleHawks
Week 3: Cam Phillips – Wide Receiver, Houston Roughnecks
Week 2: Cam Phillips – Wide Receiver, Houston Roughnecks
Week 1: PJ Walker – Quarterback, Houston Roughnecks
SOURCE: Stephanie Rudnick | XFL