Estela Rios – World Title-Winning Transformation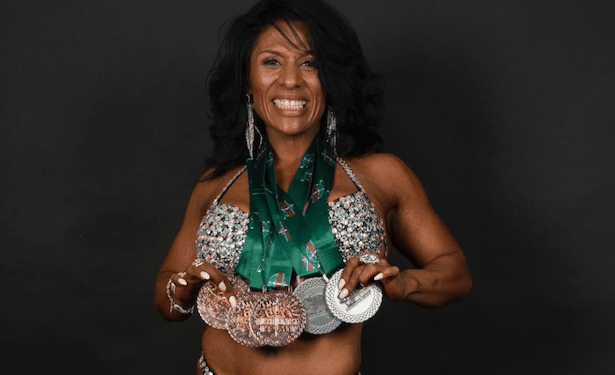 My name is Estela Rios. Four-and-a-half years ago, I used to weigh 405 pounds. I lost my mom ironically enough on Mother's Day that year and decided then to make a change in my life and devoted it to fitness. I have become a world competitor for the United States in the Muscle Contest series and have been very successful with three world titles in Japan, Ireland and Brazil and become the first international athlete to compete in five divisions for the U.S. and place in the top five. In addition, I also have 37 titles stateside.
My father recently passed away so now these shows and my journey means so much more. 
My first competition was in 2015 in Oregon and the Seven Feathers and in three categories, I placed third, third and fourth. A year later, I entered the Oregon State Championship and won the overall, placing first in two separate categories and also winning the Fitness Achievement Award.
I then had surgery on my knee for a torn ACL and meniscus, as well as repairing the quad. I recovered in a few months, so I decided to compete again, entering the 2017 Cascadin Classic where I placed first and second in two categories. Then I went to Pittsburgh (national level) and placed 10th and 16th. A few months later, I took the stage in Miami and placed in the top ten. I wasn't done, however, in 2017 and finished first and second, respectively in my two classes at the Northwest Championship. 
Then I underwent breast augmentation and abdominal surgery at the same time. Taking some time off to recover, my next competition was the 2018 Emerald Cup, the 36th anniversary of that prestigious show. I received the 6th, 12th and Most Inspiring Award for my achievements. My first international show was next, as I represented the U.S. in Brazil at Muscle Contest International  where I set my first world record, placing second, second, fourth and fourth in four separate categories. Before the end of the calendar year, I hit the stage three times – at the Northwest Championship (fifth and fifth), Tanji Johnson Classic (second, eighth, second) and the Washington State Championships (third and third).
In 2019, I heard overseas again in the Muscle Contest International series. The first stop was Japan, where I placed second, second, fourth, and third, taking home my second world record. Next up was Ireland, where I earned another world record (top five for the U.S.) and placed second, second, third and fourth. Lastly, I returned home and placed second, third and third at the Northwest Championships.
This year, I went to Japan again in February and placed in the top three out of 17 nations, taking home the bronze medal. With the coronavirus shutdown, no one knows when the contests will resume. But I and preparing for the Tanji Johnson Classic in June, the Washington State in July and then it's off to Vienna, Austria for another international foray.