How to Pick the Best Sports Watch
Freepik
Nowadays, it's so easy to track your fitness progress using wearable technology. However, despite the emergence of high-technology wearables, nothing beats the classic sports watch. Even with so many gadgets that are available, sports watches are still superior. They are simple, affordable accessories that help you personalize your training and improve your performance.
There are various sports watch models with different features. Check out this nifty guide on how to pick the best sports watch model that will fit your needs.
Benefits of Getting a Sports Watch
Sports watches provide you with fitness data, such as distance, speed, pace, location, heart rate monitor, and time. Many sports watches are now built with GPS to accurately give you this information.
Even if you're not an athlete, knowing your fitness data is extremely helpful. It allows you to track your performance so you'll know how to adjust your fitness regimen. Additionally, seeing your progress will motivate you to do better and surpass your previous record. As a result, you can reach your fitness goals faster and easier.
Plus, with today's tech innovations, sports watches are gradually becoming "smarter" too. A lot of watches are now designed to give you easy access to all of your data. They can be paired with your smartphone to receive notifications, emails, texts, or social media updates.
There are a lot of brands and models in the market with plenty of features. However, it's important to remember that the quality of the sports watch is the number one factor you should consider. The most expensive model may not be the sturdiest or the most feature-rich. Similarly, a cheap sports watch might cost you more in the long run if it becomes defective.
Types of Sports and Fitness Watches
Knowing the different types of watches will help you narrow down your choices. It's also important to know what sporting activities you want to track to determine the basic features that you're looking for.
Here are some of the most common types of sports and fitness watches:
Multisport Watch
Multisport watches are designed to track your fitness data from various sports. They have specific apps for running, swimming, cycling, and more. The best multisport watch lets you switch modes seamlessly since speed is critical in sports. This type is the perfect watch for triathletes, hikers, or outdoor enthusiasts.
Heart Rate Monitor
This type of watch is specially made for people who need to exercise within their target heart rate zone. It displays your heart rate in real-time and allows you to adjust if you need to work out harder or slow down your pace.
GPS Running Watch
Today's running watches are now equipped with Global Positioning System (GPS). In addition to recording your step count, distance, and calories being burnt, they are loaded with other features too. You can now track your pace, elevation, and vertical gain. This type is perfect for runners who want to optimize their workout routine by analyzing their fitness data.
Fitness Tracker
This is the simplest type of sports watch. It provides the most basic fitness data such as heart rate, step count, distance, calories, and sleep. This will suit people who are looking for a fuss-free sports watch or those who are just starting out on their fitness journey. 
Features to Look for
In addition to the common fitness data that most sports watches provide, you can also look for additional features. These include:
App support that allows you to sync and upload your data to third-party fitness apps.
Connectivity to other monitoring devices. For example, pedal cadence can't be tracked using sports watches, so you'll need to sync them with a speed and cadence sensor.
Battery life to ensure that your sports watch will last the entire day. If your sports watch has poor battery performance, you'll have to include the watch battery replacement cost in your budget.
Recovery time metrics reveal the number of hours you'll need to rest after each workout. This helps your body replenish lost nutrients efficiently and recover quickly.
Best Sports Watch Models
Best for multisport athletes and runners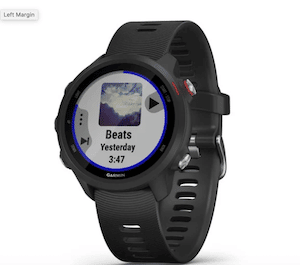 We can all agree that running is better with your favorite music on, right? The Forerunner 245 Music lets you work out while listening to your favorite beats.
Garmin is known as the top sports watch brand, and this model truly doesn't disappoint. It features built-in sports apps (cycling, treadmill, pool swimming, indoor rowing, etc.) that lets you seamlessly switch routines. It also provides data on your heart rate, oxygen saturation, location, and running dynamics.
Listening to music is easy to do with this multisport watch too. This app lets you connect to your playlists on popular apps like Spotify, Deezer, and Amazon Music.
Best for outdoor activities
If you're an outdoorsy person with different activities that you want to track, the fenix 6 Pro & Sapphire will work well for you. Like all Garmin sports watches, it is preloaded with activity profiles for trail running, swimming, cycling, rowing, skiing, golfing, and more.
Another great feature that this model has is the Animated Workouts. If you're unsure how to do a specific position for yoga or Pilates, the animations will show you how. The best thing is that you can view it on the watch's screen—it's like your own mini workout coach.
Best for fitness enthusiasts
Achieve your fitness goals easily with the Polar Ignite, an all-in-one training buddy and fitness tracker. Instead of conforming to generalized workout plans, this watch offers on-demand training that matches your own recovery and readiness.
In addition to essential fitness data like step count, calories, speed, and distance, Ignite creates a Nightly Recharge measurement. It shows how well you recover from stress and training during the night, so you can adjust your workout in the day.
Conclusion
A sports watch is a great investment for athletes, health coaches, and fitness enthusiasts. There are so many brands that have developed smarter features for your fitness data tracking, so you have plenty of options. The only thing left to do is to pick out the best sports watch according to your needs.