Sorry, Arnold, But Screw You… Not Our Freedom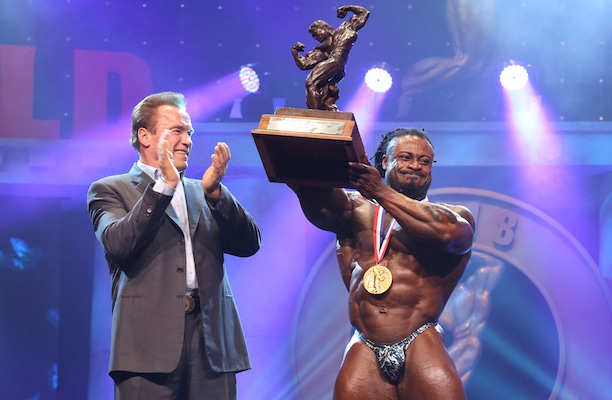 Lorz PR
For those of you who thought that Arnold Schwarzenegger was done with politics, the jokes on you. The former Republican governor of the state of California finished out his two-term run in 2011, but has been the quintessential RINO the past few years, interjecting himself into the conversation on the side of the left.
The seven-time Mr. Olympia was recently being interviewed by CNN's Bianna Golodryga (with the infamous Colonel Alexander Vindman also joining in) and during a discussion about – what else but – the China virus, he said the following:
RELATED: NO EXPO AT THE SEPTEMBER 25 ARNOLD CLASSIC (OHIO)
"There is a virus here. It kills people and the only way we prevent it is: get vaccinated, wear masks, do social distancing, washing your hands all the time, and not just to think about, 'Well my freedom is being kind of disturbed here.' No, screw your freedom. You have the freedom to wear no mask — but you know something? You're a schmuck for not wearing a mask. Because you are supposed to protect your fellow Americans around you."

One has to wonder if Schwarzenegger observed the double standard taking place by the Democrats throwing large birthday parties with nary a masked guest or those who put a mask on for a photograph, only to swiftly remove it afterwards. If not, then perhaps he should so the reluctance to "trust the science" is not such a stretch after all.
Prior to that, Schwarzenegger alluded to Donald Trump – someone who he has been very critical of, actually calling him the 'worst president ever' – by saying in a snarky fashion, "People from government finally acknowledged that there is even a virus and they were very late in warning the people," followed by a remark that he even had to cancel the 2020 Arnold Classic in Ohio because of it, sort of… well, he did backtrack and correctly state that they did have the show, but had to keep it to a limited crowd.
The rambling Austrian made two comparisons that were awkwardly shoehorned in here, the first being that he is the top expert on biceps, that he has been studying that for over 50 years and no one knows more about them than he does. So we should listen to the experts on the virus, more specifically Dr. Anthony Fauci, who has been studying them his whole life. Secondly, Schwarzenegger brought up an intersection, traffic light and a driver going through it and accidentally killing someone. Golodryga had a perplexed look on her face, while Vindman nodded like a trained parrot.
Back in June of 2020, Schwarzenegger agreed with embattled Democrat California governor Gavin Newsome on a mask mandate.
This is 100% the right move. This will help us beat this terrible virus. The science is unanimous – if we all wear masks, we slow down the spread and can reopen safely. It's not a political issue. Anyone making it a political issue is an absolute moron who can't read. https://t.co/N0FmCwDU5w

— Arnold (@Schwarzenegger) June 18, 2020

Not so fast, Terminator. The aforementioned Fauci has been waffling on everything from masks, visors, goggles and vaccines and appeared to be the ultimate hypocrite when his emails from the early days of the pandemic were released publicly. At the podium, he stood next to Trump and told the people to mask up, while his personal messages to his cohorts stated that they do little in the prevention of the virus. Needless to say, all of this and the "vaccinated sophisticated" crowds thumbing their nose at the masks/social distancing has made the rest of us very doubtful about this virus being more than just an illness. So Schwarzenegger having the balls to say the following takes on special meaning.
"Anyone making it a political issue is an absolute moron who can't read."
If anyone would know, Arnold, it would be you.
Arnold Schwarzenegger to Americans who say that masks encroach on their rights: "Screw your freedom, because with freedom comes applications and responsibilities. We cannot just say I have the right to do X, Y, and Z. When you affect other people, that is when he gets serious." pic.twitter.com/aSRFZEZIB9

— The Hill (@thehill) August 12, 2021