John Montgomery Ward Forms The Players League – OTD in Baseball 1889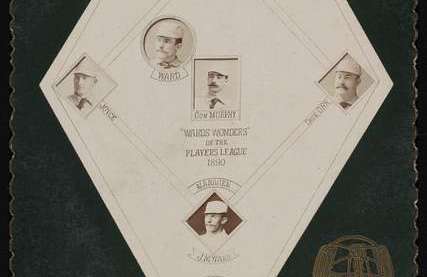 Picryl
Just as Major League Baseball is in the middle of a lockout due to disagreements between the league and MLB Players' Association, thus was a similar interruption and ultimately separation on this day in baseball in 1889. Both the NL and American Association (precursor of the American League) were going through player-management issues due to salary and the reserve clause, so New York Giants star John Montgomery Ward threatened to form another league that would give players an option. Management scoffed, but that's exactly what Ward did.

The attraction with the Players' League was a revenue sharing program between players and teams and the absence of the reserve clause. Most of the rosters were filled by NL players (approximately half the league defected) and Ward became the player-manager of the Brooklyn club, known as Ward's Wonders.
Also known as the "Brotherhood" for the name of the organization that was the first attempt at a players' union, the PL was formed with eight teams with salaries determined by the take at the gate. The Boston Reds were deemed champions with a 81-48 record, six-and-a-half games better than Brooklyn.
That lone 1890 season stood standing after a number of the PL team owners got cold feet to move forward since their take wasn't as luxurious with the split with the players. Attendance was good for a first year league, but it was still less than what any other professional sports league would be beneficial to ownership. So that offseason resulted in those owners negotiating with their NL and AA counterparts.

Two teams were sold to the AA and four others merged with the NL teams in their respective cities. The biggest legacy was the ballparks that were built for the PL ended up being adopted by the NL or AA. Ward would up as the player-manager of NL's Brooklyn outfit, known then as the Grooms or Bridegrooms (later the Dodgers). The multi-talented Pennsylvania native retired at the age of 34 once the 1894 season was in the books and is the only player in baseball history to win at least 100 games as a pitcher and have over 2,000 hits.https://www.musclesportmag.com/2021/12/11/first-attempt-at-nl-dh-oti-baseball-1928/

Ward became a lawyer and picked up where he left off, representing players in cases against the NL. He was also a vital part of another maverick league, the Federal League, in 1914. He passed away at 65 in 1925 and was inducted into the Baseball Hall of Fame in 1964 by the Veterans Committee.